Carol A. Corbett (formerly Thomas), Ph.D., LPC, NCC, is the practice owner, and a psychotherapist specializing in individual and couples.
With over twenty years experience as a counselor who specializes in work with adolescents, Dr. Corbett is currently serving as a private practitioner working with a broad spectrum of clients. Among her areas of expertise are:
Adolescent Issues
Adjustment Disorders
Anger Management
Body Image Issues
Couples Counseling
Depression & Anxiety
Domestic Violence & Abuse
Eating Disorders
Employee Assistance Counseling (EAP)
Grief/Bereavement Counseling
Life Transition Issues
Relationship Issues
Self-Esteem/Self-Confidence Issues
Stress Management
Dr. Corbett is an interactive, solution-focused, client-centered therapist. Her therapeutic approach is to provide support and practical feedback to help clients effectively address personal life challenges. She integrates complementary methodologies and techniques to offer a highly personalized approach tailored to each client. With compassion and understanding, she works with each individual to help them build on their strengths and attain the personal growth they are committed to accomplishing.
Dr. Corbett received her Ph.D. in Counselor Education & Supervision from Duquesne University in Pittsburgh, Pennsylvania. She received her Masters of Education in School Counseling from Duquesne University in 1999 and attended the University of Pittsburgh and earned a Bachelor of Science Degree, majoring in Natural Science. Dr. Corbett currently works as an Assistant Professor at Chestnut Hill College in the Master's Program for Clinical & Counseling Psychology and is also the Program Director of the Master's in School Counseling program at Chestnut Hill College.
Tibor Baukal, MA, MFT, LPC, CAADC received a Master's degree in Humanistic and Existential Psychology from Sonoma State University and has extensive experience working in community behavioral health with children and families. He graduated from La Salle University with a Master of Arts degree in marriage and family therapy. At La Salle, he was twice awarded the Minority Fellowship from the American Association for Marriage and Family Therapy, which allowed Mr. Baukal the opportunity to receive advanced training in using the person-of-the-therapist as a tool to facilitate change and to work with underserved individuals and communities, including those identifying as LGBTQ plus. He has over twenty years experience working with children, adolescents, couples, and families as a systemic and trauma-informed clinician in outpatient, community, and inpatient settings. He is a Certified Advanced Drug and Alcohol Counselor and worked as a drug and alcohol counselor. In addition, Mr. Baukal was trained in eco-systemic structural family therapy, earning the Three-Year Family-Based Mental Health Training Program certificate through the Philadelphia Child and Family Therapy Training Center, where he also completed an externship.
As a systemic and contextual therapist, he knows how to identify interactional patterns and facilitate change in distressed individuals, couples, and families. He believes in working collaboratively with clients, identifying resources and strengths to actualize the values and lives they want, and to change patterns that are unhelpful or are no longer adaptive. His specialty areas include working with clients with complex trauma, addiction, issues with intimacy, attachment, emotional regulation, loss, and bereavement. His favorite metaphor for understanding the human condition is life as a shipwreck, of being thrown or cast into a world, not of our choosing or making, but one that we must learn to make our own.
Beth Brown, M.A., LPC , graduated from Eastern University in 2003 with a B.S. in Psychology. Beth also earned her Master's degree in Clinical and Community Counseling Psychology from Eastern University in 2007. She began her counseling career as a therapist at KidsPeace. Beth worked in various clinical settings while there, including outpatient services, BHRS services for children with Autism, and residential services for individuals with intellectual disabilities, aggression, and trauma. In 2015, Beth began working as an outpatient therapist at Wings of Change Counseling. Beth is a dynamic counselor who integrates various treatment modalities such as cognitive behavioral therapy, experiential therapy, psychodynamic therapy, and client-centered approaches to help children, teens, and families explore and overcome obstacles to live a balanced and healthy life. Beth has strong empathy skills and uses compassion to help individuals engage in the process of change. Being a non-judgmental therapist helps people build their self-acceptance and gain the courage needed to change.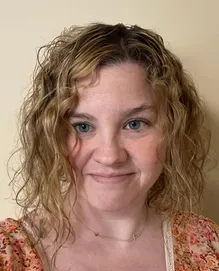 Sarah Falkson, MA, LPC, NCC graduated from Immaculata University in 2013 with an MA in Counseling Psychology. Sarah has worked in a variety of settings over the past fifteen years including inpatient hospitals, community-based settings, forensic-based and Crisis. Sarah has training in Accelerated Experiential Dynamic Psychotherapy (Level I) and operates from primarily a Psychodynamic model of therapy; believing that our feelings guide our behaviors. AEDP by its own theoretical orientation is a model that focuses on undoing of aloneness and thus, the co-creation of a therapeutic relationship experienced as both safe haven and secure base (Fosha, 2022). Sarah is a firm believer of safety within the therapeutic relationship; and that it is through the safety that one can begin to process and understand reactions, feelings, and experiences, finding hope and strength. Sarah works primarily with individuals with complex trauma, clients wanting elements of Christian counseling implemented into their therapy, secondary trauma to addiction, (ex.: those struggling with the impact of a loved one facing addiction, mood disorders (anxiety and depression), and general health and wellness.) As a side note, Sarah has a dog-friendly session space, and pups are always welcome in sessions!

Christine Fetters, M.S., LPC, graduated from Chestnut Hill College with a Master of Science degree in Clinical and Counseling Psychology. She earned her Bachelor of Science degrees from Penn State University and Cedar Crest College, in Psychology and Nutrition respectively. Christine has a background and experience in counseling diverse populations of all ages. She utilizes an eclectic approach to treatment including person-centered, psychodynamic and CBT in the pursuit of helping clients to articulate what ails them, and subsequently to identify and alter negative patterns contributing to difficulties in their lives and relationships. Christine seeks to cultivate a safe and welcoming therapeutic space for individuals to learn, grow and strengthen their overall resilience.

Lauryn Flamisch, M.S., BSL graduated from Albright College with a Bachelor's degree in Psychology & Sociology. She started working full time before graduation in the foster care and adoption programs where she wrote home studies and conducted child preparation programming. She also served as a Pregnancy Services Counselor, assisting individuals who were making a plan of adoption for their unborn child. Later, she acted as an Admission Representative at a local community college, where she assisted college students in navigating their college experiences. Lauryn then attended and graduated from Chestnut Hill College with a Masters of Science degree in Clinical & Counseling Psychology with a focus in Child and Adolescent therapy. Lauryn earned her Behavior Specialist License from the Pennsylvania Department of Medicine in 2013 and has worked in Behavioral Health Rehabilitative Services (BHRS) for many years, primarily with children with an Autism diagnosis. She was the Director of a BHRS program where she acted as the only Behavioral Specialist Consultant on staff. Lauryn is focused on building a lasting therapeutic relationship with each child or adolescent as well as parents and caregivers.
Patrick Neibauer, Ph.D., LCSW. Dr. Patrick Niebauer is a seasoned psychotherapist who has dedicated his life to helping individuals with life's stressors. His training from the University of Pennsylvania and the Philadelphia Institute of Psychoanalysis set the foundations for his skills. His approach is a gentle direction on helping individuals achieve their potential. Dr. Niebauer believes that everyone has the ability to solve emotional issues by identifying barriers that stop us from personal growth. Dr. Niebauer is a licensed social worker and has a Ph.D. in psychoanalysis. He has the ability to mix multiple theories of therapy to meet an individual's ability to recognize their potential and resolve their personal conflicts. His primary job is working for one of the largest mental health networks on the East coast where he implements and designs therapeutic programs for all ages. Dr. Niebauer offers appointments in the evenings and on the weekends.

Claire Rybak, MS received her BS from Marywood University in May 2017 and acquired her MS in Clinical and Counseling Psychology from Chestnut Hill College in May 2020. She is presently under clinical supervision and is working towards licensure to be licensed as an LPC in the State of Pennsylvania. Claire believes that each individual client brings a variety of experiences to therapy, believing that the best approach is client-centered and strengths-based. Claire works to remain trauma-informed and conscious of the client's multi-faceted experience. Claire strives to remain non-judgemental and empathetic in her work, and creates a space of safety for her clients where they can process and heal.
Claire has worked in the field for three years and has worked with individuals from many walks of life within the Lehigh Valley, from youth to geriatric populations and those who fall in between. Claire utilizes an integrative approach where she draws from many therapeutic modalities to meet the client where they are at and works collaboratively to explore and deduce where the focus of therapy lies. Claire believes in active communication between client and therapist, and she also upholds qualities of active listening within her work to engage clients and increase their feelings of being understood. Claire understands that clients comes with a diversity of significant connections with others, and she strives to aid her clients in their development of strengthened support systems along with increased personal self-worth.


Cheryl Seybolt, LSW , received her Bachelor of Arts degree in psychology from Allentown College and earned a Masters Degree in social work from Marywood University. Cheryl has over 30 years of experience working with adults, couples, families children and adolescents with mental health, drug and alcohol and behavioral issues. She has worked in many clinical settings including: child welfare, hospice care, partial hospitalization programs, outpatient mental health, inpatient mental health, drug and alcohol and behavioral health. Cheryl has extensive clinical experience working with issues of anxiety, depression, bipolar disorder, borderline personality disorder, post traumatic stress disorder and self-esteem issues. Cheryl's approach to therapy is client focused, non-judgmental and strength based. She uses several treatment modalities including; motivational therapy, play therapy, cognitive behavioral therapy and dialectical behavioral therapy. Cheryl has strong empathy and advocacy skills and will work with you to help develop coping strategies and find solutions to improve your overall mental health and well-being.
Jenn Zeiner , LCSW, has worked as a licensed social worker since 2009 and obtained her clinical license in February of 2020 from Marywood University. She has worked in a variety of settings including child welfare, mental health crisis and medical social work. Jenn started working in private practice four years ago providing individual, family & marital counseling to children, adolescents, adults and couples. Jenn specializes in issues of anxiety, behavior modification, communication, anxiety, depression, social and school anxiety, self esteem issues, grief & loss along with life changes.

Tina Rieker is the Billing Coordinator/Office Administrator for Wings of Change Counseling. She has been working in the outpatient mental health field since 2006. Tina will be your first point of contact, and she knows that when making the first call for services, it can be stressful and even scary for some. She is dedicated to helping you feel comfortable and at ease when beginning your counseling journey. During the intake conversation, Tina will help you navigate through the insurance process so that you are aware of your benefits before your initial session. It can be confusing to understand, and she is always available to answer your questions.